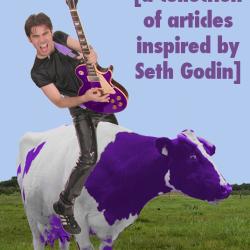 For the next 5 days, you can download a free copy of my new Kindle book, "Riffs on a Purple Cow: a Collection of Articles Inspired by Seth Godin" from Amazon.com. If you don't have a Kindle, get a free Kindle reader app for your computer, tablet, or smartphone here.
If you've been reading this blog long, you'll recognize some (but not all) of the articles in the book. Many of them appeared here originally. I wrote several more exclusively for the book.
If you like the book, please post a review on Amazon.com. And if you like the book and/or me :-), please let your friends know where they can get the free download while it lasts. You'll find some sharing buttons (an a list of a bunch of the article titles) on this page.
Thanks. You're welcome. And enjoy!

Share Your Comments: