Riffs on a Purple Cow
A Collection of Articles Inspired by Seth Godin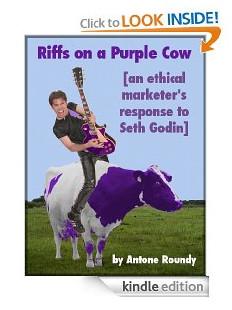 Riffs on a Purple Cow is a Kindle book by Antone Roundy. It's a collection of articles inspired by quotes from Seth Godin's blog. Each article elaborates on, agrees with, disagrees with, or runs off on a tangent from something Seth wrote.
Most of the articles are about marketing, though a few venture into other territory. Article titles include:
How Do You Create a Mythological Brand?
Why It's Hard to Be Interesting and Interested
Fools Cash In Where Angels Fear To Tread
How to Find Your Own Personal Goldmine of Unique Selling Angles
Do Only Cheaters Prosper?
Doing Business in an Information-Overloaded World
Creating Connections Through Shared Experience
Does Everybody Have to Be a Social Media Expert Now?
Choosing Your Customers
Shiny Old Objects
Introductory Reverse-Discount Price?
Causal Chains and Solution Chains
Which is More Important: Perception or Reality?
A Demonstration is Worth a Thousand Words
One Man's Hype is Another Man's Truth
Mass Marketing for the Social Age
An Invitation to Change the World
...and more.
Amazon Prime members can "borrow" Riffs on a Purple Cow for free on their Kindle devices.