Sorry, no posts matched your criteria.
Get to Know Us
Hi. I'm Antone Roundy. I'm a strong believer in ethics, and have always tried to practice and promote ethical behavior in an industry where many slip over to the dark side. At White Hat Crew, I'll share insights into internet marketing, with extra emphasis on ethical issues.
Read my Internet Marketing Ethics Manifesto
Join a Blogging Team
Blog & Tweet Easier
Guest Post
New to this blog? Start Here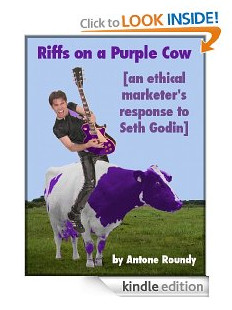 Riffs on a Purple Cow is a Kindle eBook containing collection of articles I wrote, inspired by Seth Godin. Download your copy from Amazon.com.
It's also a demonstration of the blogging and business method outlined in my eBook, "How to Build and Operate an SEO Content Factory", which you can download for free in either of these formats:
PDF | Mobipocket (Kindle, etc.)